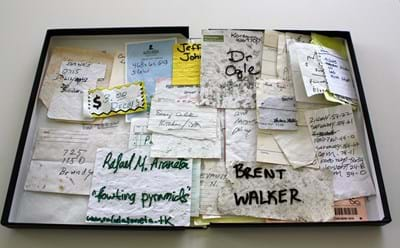 Tacoma, WA
December 2-12, 2022
Marc Dombrosky (he/him/his) lives and works in Tacoma, Washington. His projects and installations construct fragmentary narratives, often utilizing a combination of drawings, found objects, and salvaged documents overwritten with hand embroidery. As an intuitive navigation of memory, observation, and collective authorship, his multivariate practice involves the salvaging and reconstitution of everyday objects into new forms and constellations.
Dombrosky earned a Master of Fine Arts in Painting from The Ohio State University and served as the Chair of the Department of Visual + Performing Arts and Gallery Director at Southwestern Michigan College. He has presented solo exhibitions at Portland Art Museum and Clark County Government Center. Selected group exhibitions include Cranbrook Art Museum, Tacoma Art Museum, Bellevue Arts Museum, Museum of Northwest Art, Whatcom Museum, Center on Contemporary Art (Seattle), and Gregg Museum of Art and Design. Dombrosky is joint owner of Slush Club, a ceramics studio producing a curated collection of custom, handmade dinnerware designed and fabricated by Shannon Eakins. He is represented by Platform Gallery.
The James Castle House Residency will provide an opportunity to capture discrete elements of his time exploring James Castle, the space, and the community to create a living, organic archive.