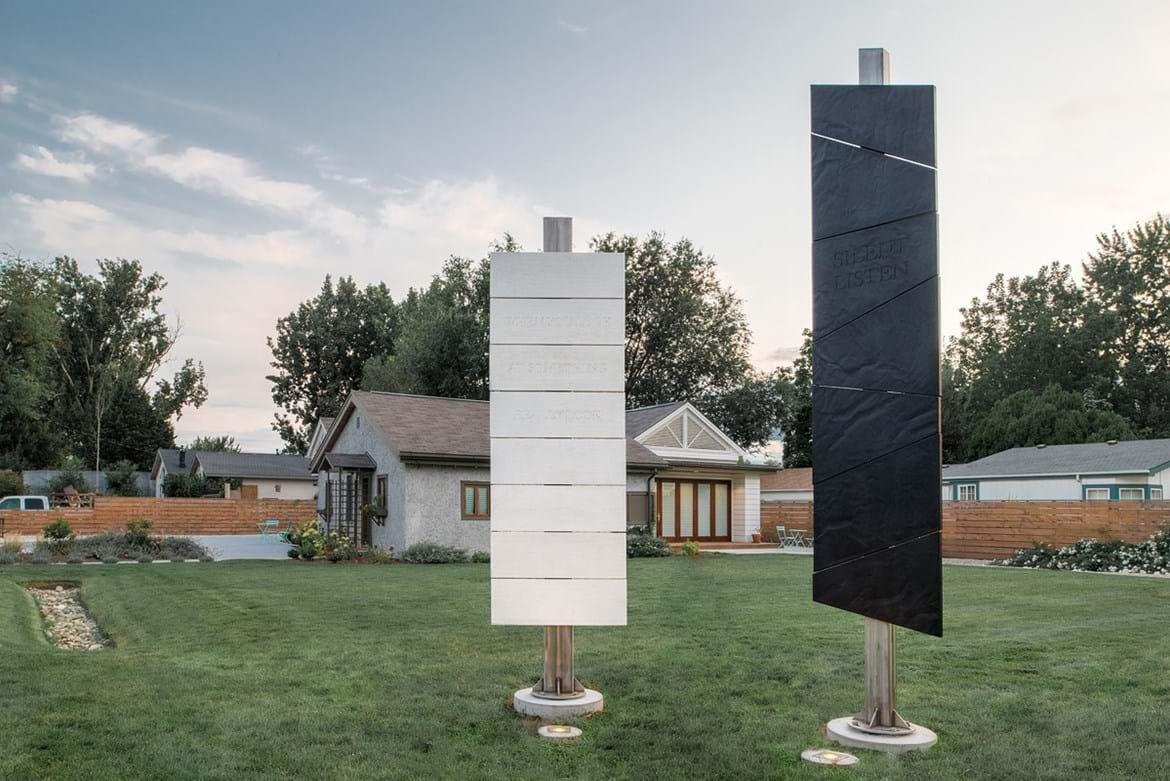 Kith & Kin
By Troy Passey, 2019
An homage to James Castle, Kith & Kin by Troy Passey is a testament to Castle's imaginative vision and encourages viewers to be more attuned to their world. These steel and concrete sculptures bring to life Castle's iconic drawings of columnar forms which are often inspired by buildings, trees, and other common objects. Text, patterns, and shapes found on Kith & Kin reference a variety of Castle's artistic styles.
Impressed on these sculptures are the words "silent" and "listen," an anagram referencing Troy Passey's interest in language and James Castle's fascination with text and typography. Silence is a critical, integral, and often essential part of James Castle's story. This understanding inspires us to celebrate stillness, solitude, and awareness as part of the creative process. To listen is to look. According to Geraldine Garrow, Castle's niece, James was "always busy, always looking, and always making." This quote found on Kin celebrates Castle's daily practice and lifelong devotion to making art. With an acute awareness of his surroundings, Castle's work now encourages us to observe and be present.
"Everything changes; everything is connected; pay attention" a quote by the poet Jane Hirshfield is fused to the back of Kith, inspiring the link between James Castle, visitors, resident artists, and this important historical site. The artwork serves to signify the James Castle House, celebrate the unique creative vision of James Castle and aims to generate silence, observation, and curiosity.
About Troy Passey
Troy Passey lives just a few blocks from the James Castle House in Boise, Idaho. He grew up on a farm in Paris, Idaho. In his youth, Passey aspired to be a writer and began carrying a small notebook where he would scribble ideas, quotes, and observations.
In his formal education, Passey focused on creative writing, contemporary literature, and popular culture. Passey had always been interested in visual arts and while researching his master's thesis—an ecological critique of Andy Warhol—Passey ran across a quote by Warhol that changed his life. Warhol said, "Some people are even better at their second love than their first." Passey promptly decided to become a visual artist. He began creating artworks that incorporated words. His childhood habit of recording his world became the perfect practice for his text-based artwork.
Passey's art has been included in four Idaho Triennials. He was a recipient of an Idaho Commission on the Arts Fellowship. Passey has had solo exhibitions at the Boise Art Museum, Sun Valley Center for the Arts, Gallery CTA, and the Ogle Gallery in Portland. His work has also been shown in group shows in Jackson Hole, Los Angeles, Houston, Dallas, Chicago, and Miami.
In 2018, Passey collaborated with J. Reuben Appelman to create the book Woodsmoke: Reflections on Place, after James Castle. An exhibition of this work was on view at Ming Studios in Boise. Passey was the first artist in residence at the James Castle House. He has been a long-time admirer of James Castle.