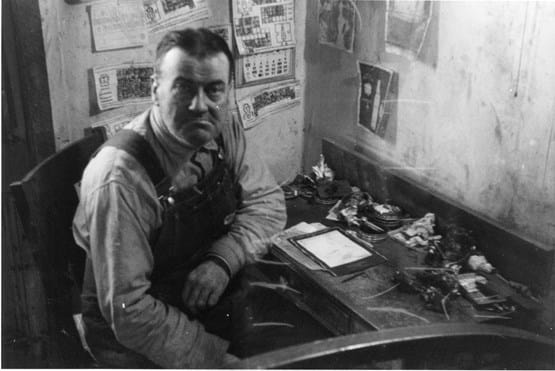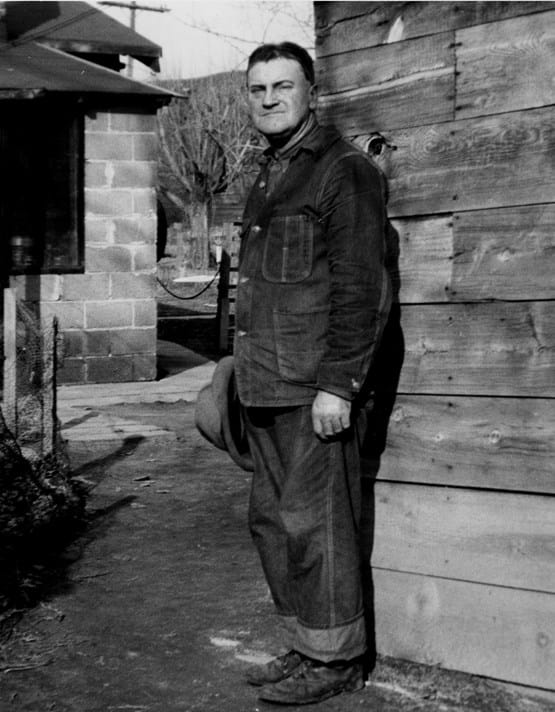 James Castle is one of the most unlikely and enigmatic American artists of the twentieth century.
He was born on a farm in Garden Valley, 50 miles northwest of this site, and lived there and in Star, Idaho during his youth, before moving to this house with his family in 1931. Castle was born deaf, and, while he attended Idaho's school for deaf and blind children, he never became proficient in reading, writing, or a conventional means of communication. Because of this he was largely excused from the farm's chores and allowed to spend his time freely. From an early age Castle displayed a great love for drawing, whiling away the hours on pencil representations of his immediate surroundings.  
As Castle matured so did his art and technique, all entirely self-taught. It is difficult to know exactly how his methods evolved because nearly everything Castle produced before moving to this house has been lost. What we know is that by 1931 he had settled into a rigorous daily routine of searching the property for materials that could be pressed into service for his art, including cardboard, scrap paper, string, and things like crepe paper or crayons that might be leached to make watercolor. He then retired to his personal space – first the shed still on the property, then later the Cozy Cottage trailer – and spent the remainder of the day quickly and methodically rendering several different types of work.
Best known among them are his soot drawings, made by scraping carbon from a woodstove to mix with his saliva to create a sort of charcoal paste, which he then scraped onto found paper with sharpened sticks. Castle was extraordinarily skilled at this unusual process, masterfully teasing out each desired tone to create nuanced pictures of his homes in Boise, Star and Garden Valley. Castle's attention to detail in these works is remarkable given how often they were based on memory rather than direct observation. Related to these drawings are his constructions in which Castle pieced together cardboard and other found paper to create charming and instantly recognizable representations of everyday life, from ducks and geese, to clothing and baby carriages. 
Castle was also clearly passionate about language and communication, and created a large number of works investigating letters, signs, and symbols assembled into dizzying and ever-changing combinations. These sometimes filled books Castle bound from the same paper and packaging materials scavenged from around the property.
Other drawings reveal Castle's careful consideration of color using homemade paints and washes. His color works tend to be more abstract or dreamlike than his soot drawings, prompting some art historians to draw parallels between these works and the rise of Abstract Expressionism in postwar American Art. Perhaps most challenging from our perspective are Castle's depictions of people that, with their square heads and blank faces, are striking for their combination of his realist and abstract styles.  
Castle's art was known only to his family and friends until 1951 when his nephew shared some of his uncle's drawings with faculty at his college in Oregon. The interest was immediate. Soon Castle's art was displayed in galleries in Portland and in Idaho. Sales of Castle's works allowed his family to buy James the Cozy Cottage trailer in 1963 That same year his art was exhibited at the Boise Art Museum, the highest honor Castle received for his work during his lifetime.
Public interest in his art has grown exponentially in the last twenty-five years, including with recent, major exhibitions in Philadelphia, Washington, D.C., and Madrid. As people around the world experience Castle's art, they engage with his exceptional vision of life in this place. The James Castle House stands today as a testament to the artist's unique talent and artistic legacy.