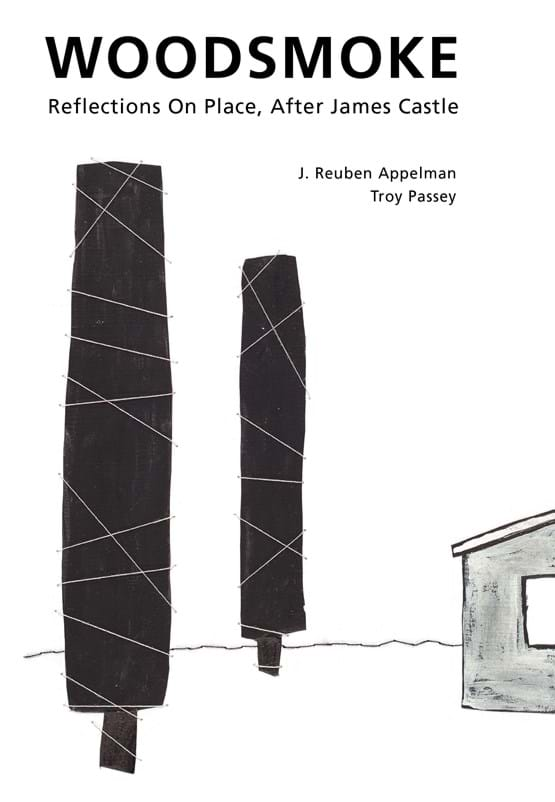 WOODSMOKE, REFLECTIONS ON PLACE, AFTER JAMES CASTLE
Poetry by J. Reuben Appelman
Artworks by Troy Passey
5 ½ x 8 inches, 63 pages
Published by City of Boise and Boise City Department of Arts & History, 2018
---
Serving as a testimony to the life and work of American artist, James Castle, Woodsmoke is a reflection on the passage of time and the history, memory, and architecture of the James Castle House at 5015 Eugene Street, in Boise, Idaho, USA, where much of Castle's work was created.  
Writer, J. Reuben Appelman is a State of Idaho Literature Fellow and author in multiple genres.  Appelman's poetry, here and elsewhere, explores the uncommon image through a construction of juxtapositions saturated in everyday itemization. His book, The Kill Jar, is published by Simon & Schuster (2018).  
Artist, Troy Passey uses words as found objects. His text-based art is gleaned from literature, lyrics, and the poetry of plainspoken speech.  Passey's allusions to the natural world recall the vistas of his youth spent on a farm in Paris, Idaho.  
Together, Appelman and Passey create minimal compositions in honor of place, space, and the James Castle legacy.   


"Woodsmoke stretches far beyond a typical coffee-table art book, and is, in fact, a breathing gift of empathy. Through the words of J. Reuben Appelman and images of Troy Passey, the reader/viewer is delivered into the mind, spirit, and space of the artist. This book is delightful and inspired and a perfect reflection of James Castle and his work."

-Alan Heathcock, Author of VOLT and 40 
"This exciting partnership between two of Boise's best artists demonstrates the potential of The James Castle House.  Poet J. Reuben Appelman and visual artist Troy Passey fused their distinct styles and created a tribute to Mr. Castle that celebrates both the past and future of art in Idaho.  The new community facility on Boise's west end will be a much needed catalyst for creative collaboration.  I can't wait to see what comes next." 

-Kurt Zwolfer, Director at The Cabin a center for readers & writers
"Woodsmoke: Reflections on Place, After James Castle refracts the inner and external architectures of the house on 5015 W. Eugene Street, Boise, Idaho: the frames and eaves that shaped one of our most cherished American artists, James Castle. Woodsmoke enters and enacts aspects of this dwelling, where plaster thinks and specks of soot repeat their urgent signal: There is a genius here in our midst. If it is true that a home can become a heart, as Appelman himself suggests, then it is also true that this book's pages become rooms, and joining genius ends up nature's surest way to evolve beauty. Within these spaces—among horses and loam, tarpaper and plank, white space and wax—three artistic acumens, those of Troy Passey, J. Reuben Appelman and James Castle, smudge into one. Experiencing this uncannily beautiful book, we conceive new and purer ways to enter our own hearts—feeling accompanied. Grateful. And braver." 

-Diane Raptosh, noted Author, Poet and Educator