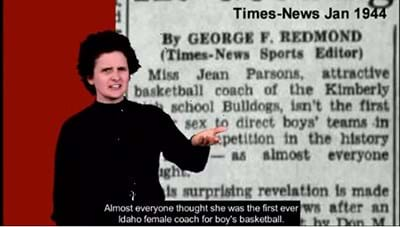 Jerome, Idaho
December 16 - 23, 2021
Mavis Irwin is a Medical Researcher from Jerome, Idaho. Irwin was born profoundly deaf and attended the Idaho School for the Deaf and Blind in Gooding, Idaho from 1983 until her graduation in 1999. Mavis continued her studies at California State University at Northridge, and then at the University of Utah School of Medicine, where she earned a doctoral degree in Physiology.
Irwin is a strong advocate of understanding deaf peoples' education needs in order to increase the number of advanced degrees and involvement in STEM fields among deaf people. Beginning in 2015, Irwin began making educational science videos in American Sign Language (ASL) with English open captions, and then expanded to creating documentaries about the rich history of the Idaho School for the Deaf and Blind (ISDB). This project has been a community effort, taking into account different ISDB experiences and input, and working closely with ISDB alumni and the ISDB Foundation. 
During Irwin's stay at the James Castle House, she will be making a new ISDB documentary about what deaf education was like during James Castle's time, and how it may have affected and shaped people like Castle.