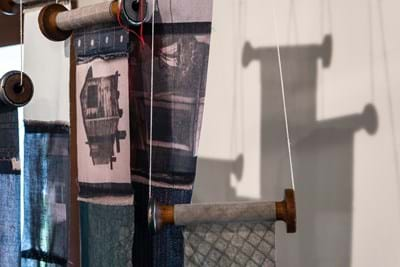 Gainesville, Forida
May 15 - August 14, 2019
Cindy Steiler is a mixed-media artist who lives in Gainesville, Florida with her loving partner and pack of hilarious dogs. Her work explores concepts of memory, space and longing through a range of materials and techniques including found objects, textiles, photography, embroidery and crochet. Steiler's work is inspired by her travels, where she can delve in to a new community, listening to stories told by residents to learn the personality and history of each new place. This practice has led her across the United States, Canada and Europe, presenting exhibitions and teaching workshops for students of all ages.
Steiler studied set design at Colorado State University and spent years working in theater before bringing the practical skills she learned there to her concentration on art. She has participated in numerous artist residencies, including Stiwdio Maelor in Wales, Contextile in Portugal, and the Jentel Foundation in Wyoming.
Read the Creators, Makers & Doers interview with Cindy here.
Additional Works