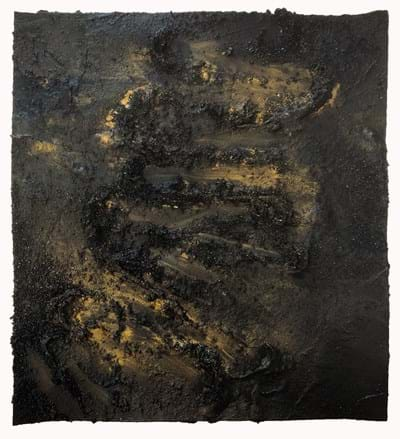 Minneapolis, MN
January 6-16, 2023
Amanda Hamilton (she/her/hers) is an artist whose work spans multiple forms of media and subject matter. Her practice focuses on stones and geology and materials found in nature with shine and sheen, especially iridescence. She is interested in darkness, optically and poetically. Hamilton was introduced to James Castle when she served as Associate Professor of Art and Director of the Friesen Gallery at Northwest Nazarene University in Boise, Idaho for eight years.
Inspired by Castle's experimentation and resourcefulness, she wishes to collect stones, dirt, and materials from the landscape to integrate into her textured paintings while onsite. 
Hamilton earned a Master of Fine Arts from Claremont Graduate University in Southern California and currently serves as an Associate Professor of Art at Bethel University in Saint Paul, Minnesota.