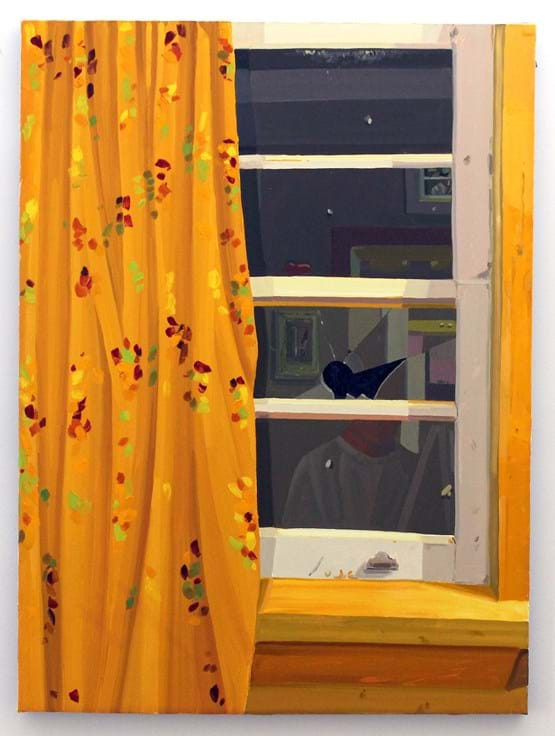 KEIRAN BRENNAN HINTON
New York, New York
www.keiranbrennanhinton.com
May 22 - August 20, 2018
Keiran Brennan Hinton is a Toronto born artist now based in New York. He uses observational painting to stay intimately connected to life in each moment, recording his everyday environments with an attention to detail that transforms them into something exceptional. For Brennan Hinton, the practice of observation becomes a way to slow the passage of time, requiring patience and concentration, as well as willingness to be surprised. His intimate paintings of doorways and windows capture the tension between the public and private spaces in our lives, presenting both a barrier and an invitation to the viewer in their exploration.
Brennan Hinton received his BFA from Pratt Institute, New York and his MFA from Yale School of Art, Connecticut. He has exhibited his work across the United States, Canada and Europe, where he recently took part in Outside In at Francesco Pantaleone Gallery, Milan. Brennan Hinton is the recipient of an Outstanding Merit Award from Pratt University and a Gloucester Travel Fellowship from Yale University.
Find upcoming events with Keiran Brennan Hinton online here.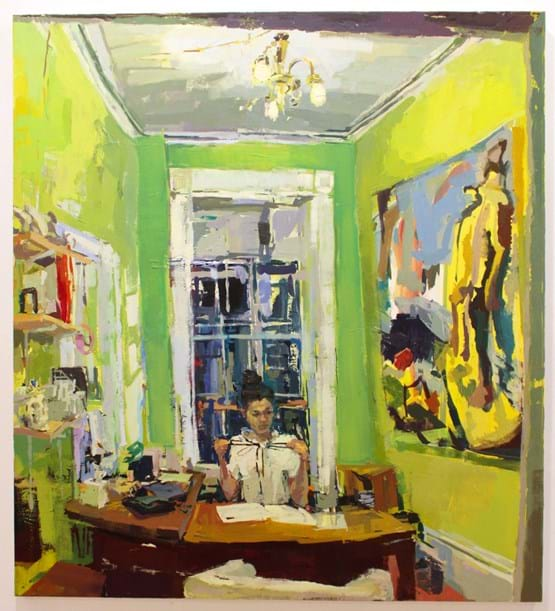 RACHEL RICKERT
Brooklyn, New York
www.rachelrickertart.com
January 3 - April 4, 2019
Brooklyn based artist Rachel Rickert explores our complex relationships to domestic rituals, which often go unexamined even as they exert powerful emotional attachment. Through her use of saturated, vibrating colors and lively brush strokes, Rickert captures an immediacy within each painting, presenting a snapshot of the intimacy and mundanity inherent in our everyday routines.
Rickert received her BFA from Washington University, St. Louis and her MFA from the New York Studio School, New York. Her work has featured in numerous group and solo exhibitions in New York and St Louis, and has earned multiple honors and awards, including a 2017 Mercedes Matter/Ambassador Middendorf Award and a 2017 James O'Brian Award.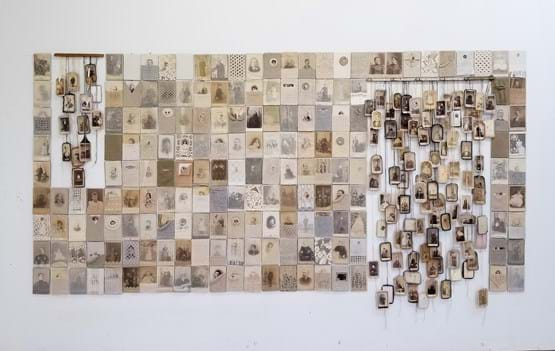 CINDY STEILER
Gainesville, Florida
www.cindysteiler.com
May 15 - August 14, 2019
Cindy Steiler is a mixed-media artist who lives in Gainesville, Florida with her loving partner and pack of hilarious dogs. Her work explores concepts of memory, space and longing through a range of materials and techniques including found objects, textiles, photography, embroidery and crochet. Steiler's work is inspired by her travels, where she can delve in to a new community, listening to stories told by residents to learn the personality and history of each new place. This practice has led her across the United States, Canada and Europe, presenting exhibitions and teaching workshops for students of all ages.
Steiler studied set design at Colorado State University and spent years working in theater before bringing the practical skills she learned there to her concentration on art. She has participated in numerous artist residencies, including Stiwdio Maelor in Wales, Contextile in Portugal, and the Jentel Foundation in Wyoming.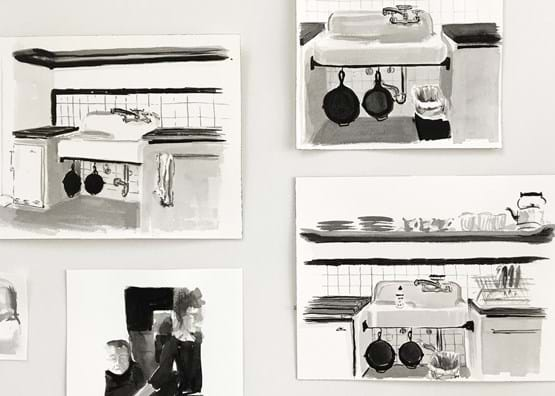 KAREN WOODS
Boise, Idaho
www.karenwoods.com

March 16 - 22, 2018 (Pilot Residency Program) 
"To live and work in the James Castle House is to be supported— buoyed—by the life and work of this gifted artist. But inspiration also comes from the life and work of those who are now preserving and sharing his legacy with all of us. This place is infused with the spirit of creativity and generosity." -Karen Woods
Karen Woods was born in Seattle, Washington and lived in other cities on the West Coast until she moved to Boise, Idaho in 1994 with her husband and son. She received her BFA from the California College of the Arts and has spent her life creating art—but it wasn't until 2007 that she began to paint full-time. Woods is fascinated by the way the world looks "from inside to outside." She explores this primarily through paintings of streetscapes as seen from the inside of a car. This approach not only serves as a springboard to experiment in scale and technique, but also addresses her conviction that extraordinary beauty lies in the most ordinary places.

Woods has exhibited across the U.S., frequently showing in New York, Los Angeles, Boston, and Boise. Her work is in the permanent collections of the Boise Art Museum, Boise Visual Chronicle, and Boise State University, and was recently presented in "The Way to Wilder," a solo exhibition of new works at the Boise Art Museum.
GEOFF KRUEGER
Boise, Idaho
www.geoffreykrueger.com

March 2 - 8, 2018 (Pilot Residency Program) 
"My week at the James Castle House was highly productive. It was wonderful to carve out some time and devote it to small abstract studies for much larger work. The studio space was great to work in, nice light, space, and well appointed for a long-term stay. The overall feeling there was one of peace and possibilities."
- Geoff Kruger
Geoff Krueger was born in Southern California where he began his career painting landscapes in Orange County that were slated for development. His paintings of strawberry fields and orange groves preserved the quintessential California of his childhood before it disappeared forever. Krueger continues to paint landscapes while also venturing into abstract work, collage, and assemblages. He explores these other genres intuitively allowing the work to take shape organically and often surprising him with its results.

Krueger has painted full-time for 25 years, exhibiting frequently in California and Idaho. He is a recipient of an Idaho Commission on the Arts Fellowship and a Boise Art Museum Triennial Award of Excellence.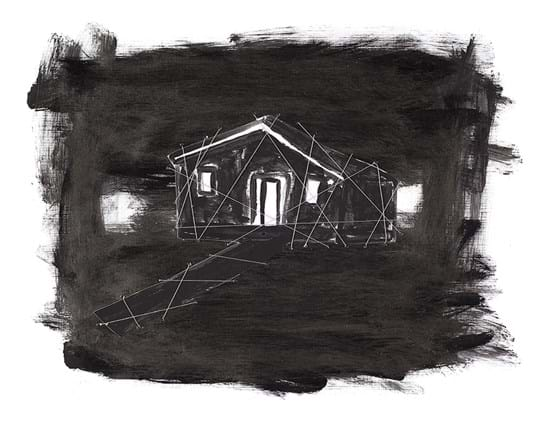 TROY PASSEY
Boise, Idaho
www.troypassey.com

February 23 - March 1, 2018 (Pilot Residency Program) 
"It was inspiring to live and work where James Castle lived. A James Castle House Artist Residency provided me with a genial and quiet space to focus and create." - Troy Passey
Troy Passey grew up on a farm in Paris, Idaho, where as a child he carried a small notebook in his pocket to record his observations. His interest in literature and love for the poetry of plainspoken speech is instantly visible in his text-based artwork, which often includes language references from literary or musical sources. His work carefully balances image and text to create an immersive and expressive landscape of thought.

Passey has exhibited work in Chicago, Dallas, Jackson Hole, Los Angeles, Miami and Portland, as well as across Idaho. He is the recipient of an Idaho Commission on the Arts Fellowship and was recently commissioned by the Boise City Department of Arts and History to create artwork for Woodsmoke: Reflections on Place, After James Castle. This book is a collaborative exploration and interpretation of the history and character of the James Castle House through Passey's artwork and poetry by J. Rueben Appelman.