Inside the Studio with Cole Calvin (11/6 at 2 p.m.)
Date: 11/6/2021 2:00 PM - 11/6/2021 3:00 PM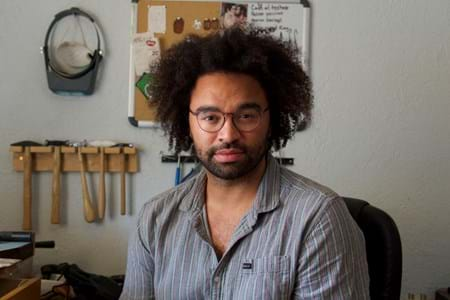 Join us Inside the Studio on November 6 from 2 p.m. to 3 p.m. for an intimate conversation and studio tour with resident artist Cole Calvin. As an informal gathering, visitors are provided an insider's look at Calvin's creative practice, work, and experience at the James Castle House.  
This free event will take place on-site at the James Castle House, no registration is required. We ask that participants review and follow our safety protocols. Please note: events could be altered or canceled due to COVID-19. Please view our website prior to attendance for the most updated information. 
Cole Calvin is a multi-disciplinary artist of mixed heritage living and working in Boise, Idaho. As a Gay, Black/Biracial man, Calvin's works explore concepts of racial and sexual identity and how those ideas inform his experience of the world around him. Working primarily with clay and semi-precious metals, Calvin creates pieces that shift from functional to fine art. His sculptures and jewelry range from narrative collections to individual works inspired by the natural world. When creating new works, Calvin takes into consideration the ways in which his audience might interact with the work, with an awareness of how a piece feels in the hand or relates to the body. Through this exploration, he engages the senses beyond the visual and into a more visceral and tangible relationship between art and audience. 
The James Castle House encourages persons with disabilities and those who require language assistance to participate in its programs and activities. If you anticipate needing an accommodation, please email jamescastlehouse@cityofboise.org, as soon as possible, but no later than 72 hours before the event. To request assistance, you may also dial TTY 1-800-377-3529. 
Image courtesy of Cole Calvin.