Workshop: Transcribing Castle's Shed
Date: 2/24/2019 1:00 PM - 2/24/2019 4:00 PM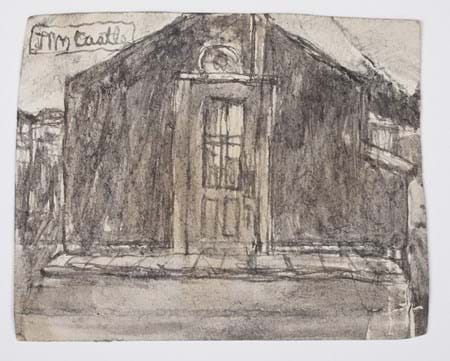 Workshop: Transcribing Castle's Shed
Join Resident Artist Rachel Rickert in an exploration and interpretation of James Castle's drawings. In this workshop we will learn from Castle's ingenuity of composition by first doing charcoal drawings of his shed works, then personalizing the pieces by translating them into color with oil paint. We will focus on the difference in casually looking at a work of art, versus the deeply engaged looking when the viewer is drawing from that work, and how much more is revealed to the viewer/artist during the drawing process.
Fee: $40.00
Supplies provided.
Space is limited. Registration required. Reserve your spot here>
Image credit: James Castle (1899 – 1977), Untitled (Shed 1), n.d., © 2018 James Castle Collection and Archive, All Rights Reserved
The James Castle House encourages persons with disabilities and those who require language assistance to participate in its programs and activities. If you anticipate needing an accommodation, please contact Rachel Reichert, 208-608-7046 or email rreichert@cityofboise.org, as soon as possible, but no later than 72 hours before the event.