Creators, Makers, & Doers: Live feat. Stephanie Inman
Date: 4/18/2019 6:00 PM - 4/18/2019 7:00 PM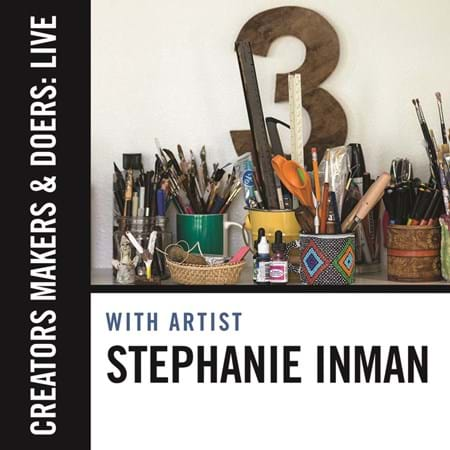 Hosted by the Boise City Department of Arts & History (A&H) at the James Castle House, Creators, Makers, & Doers: Live is a series of informal talks focusing on the creative processes and studio practices of artists. Developed in the spirit of A&H's mission, the series is motivated to explore the lives and work of artists and ignite conversation around creativity in Boise.
This month, we feature Stephanie Inman. Stephanie is a designer who loves collaboration, color, mixed media, hand lettering, and a challenge. After earning her bachelor's degree in Architecture from the University of Oregon, she worked as an architect in both Eugene and Boise before starting her own graphic design studio in 1997. Stephanie has since taken on roles as an arts planner and public artist, and her public art installations can be found at Zoo Boise, Main Street Station, and at the Boise WaterShed.
Tune-in for Creators, Makers, & Doers: Live on April 18, 2019 at 6 p.m. on A&H's Facebook page or register online to attend in person (seating limited to 25). Event is free. Registration required at Eventbrite.
This event series is made possible in part by West Elm Downtown Boise.
The James Castle House encourages persons with disabilities and those who require language assistance to participate in its programs and activities. If you anticipate needing an accommodation, please contact Rachel Reichert, 208-608-7046 or email rreichert@cityofboise.org, as soon as possible, but no later than 72 hours before the event.