Creators, Makers, & Doers: Live feat. Karen Woods
Date: 12/19/2019 6:00 PM - 12/19/2019 7:00 PM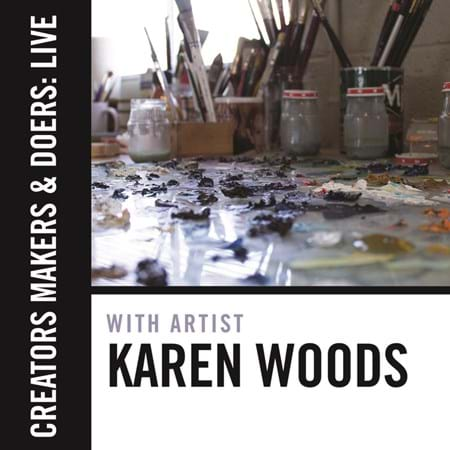 Hosted by the Boise City Department of Arts & History (A&H) at the James Castle House, Creators, Makers, & Doers: Live is a series of informal talks focusing on the creative processes and studio practices of artists. Developed in the spirit of A&H's mission, the series is motivated to explore the lives and work of artists and ignite conversation around creativity in Boise.

In December, we welcome artist Karen Woods to the stage. Woods is an oil painter known for her depictions of the outside world as seen from the inside of a car, often looking through a rain-soaked windshield. Born in Seattle, Woods received a BFA from California College of the Arts. Her longtime association with Stewart Gallery has led to representation in galleries on both coasts, including recent exhibitions in New York and Los Angeles. In 2016 the Boise Art Museum featured her solo exhibition "The Way to Wilder." 

Join us for Creators, Makers, & Doers: Live on December 19, 2019 at 6 p.m. or tune in on A&H's Facebook page! This event is free and open to the public.
This event series is made possible in part by West Elm Downtown Boise.
The James Castle House encourages persons with disabilities and those who require language assistance to participate in its programs and activities. If you anticipate needing an accommodation, please contact Rachel Reichert, 208-608-7046 or email rreichert@cityofboise.org, as soon as possible, but no later than 72 hours before the event. To request assistance, you may also dial TTY 1-800-377-3529.